GROUP A

GROUP B

8:25 am Warning bell
8:30 am Classes begin
10:20-10:35am Recess
11:50-12:30pm Outside Lunch
12:30-12:45pm Eating Lunch
2:20 pm  School day ends

Group A Classes:
MacGregor
Leonard
Baydo
Walsh
Findlay
Harmston
Stewart
Vergara
White
Kohls
Konkin

8:25 am Warning bell
8:30 am Classes begin
10:05-10:20am Recess
12:15-12:30pm Eating Lunch
12:30-1:10pm Outside Lunch
2:20 pm  School day ends

Group B Classes:
Gernaey
Smith
Hoyes
Vis
Kinnee
Budshah
Cutler
Lachance
Koepke
Ewald
Ross
West Coast Recess
Here at Harry Hooge Elementary we are now participating in what's called a "West Coast Recess".
This means that in a variety of types of weather, students are expected to go outside for recess and lunch. On days when the weather conditions are more extreme, the principal may decide to make it a choice day or an inside day. On a choice day students would be able to decide whether or not to go outside.
Our goal is to provide students with as many opportunities as possible to play outside and enjoy the fresh air and the great West Coast. So, please remember to always bring appropriate clothing, coats and shoes or boots to suit prevailing weather conditions.
"Whether it's snow, rain, poor air quality, or extreme cold, inclement weather can put a kink in school recess. Kids need physical activity every day. Students benefit from play outdoors, including the fresh air, sunlight, increased space to run and even the change of scenery. Time outside is healthy and helps students return to the classroom ready to learn again. Parents and educators can help children get their necessary daily physical activity regardless of the weather conditions".
Click here to learn more about kids going outside.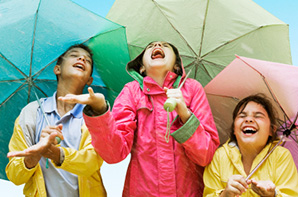 Taken from http://www.playworks.org/make-recess-count/resources/inclement-weather-recess